The fifth iteration of the immensely popular Netflix show seems to share the same hunger for content that the show's protagonist has for power. It delivers on all aspects that the show is known for.
House of Cards might be a US story sure, but its characters can find resemblance in every part of the world. More so in India
Netflix and India's broadcaster of the show Zee Café might know this quite well, given the aggressive promotions we've seen.
The fake smile put up in front of the crowd. The fake patriotism shown during the campaigns. The fake innocence shown when accusations are hurled. We see the fakes on TV. What happens behind the scenes is what the show skillfully portrays. And since there are hardly any other series that does the same (practically no show in the Indian turf), the success and popularity of the show becomes apparent.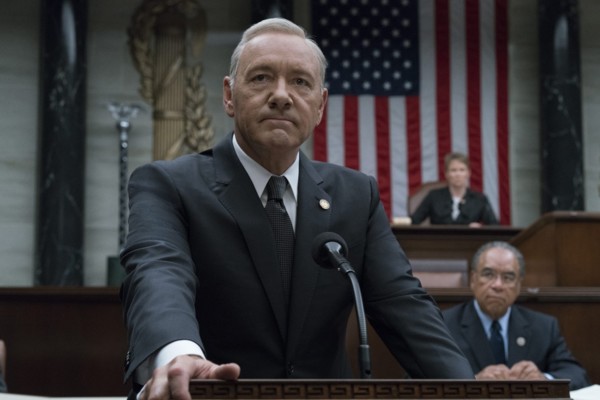 With season 5, nothing of that changes. The Underwood's cunningness still remains the highlight. And just when you think the stakes for Frank are far too less for a character like him, the show makes sure he's brought down. But still, I think Claire had a bigger role to play this season. Her character arc has turned to be more interesting than Frank's, making you root for her more than him. Who all are in Team Claire already?
There are some major problems this time. The show surprisingly felt rushed. Surprising because it's a Netflix show, often complained for dragging every show to accommodate 13 episodes. I felt this season had enough plot to stretch itself for another 5 episodes at least. The writing standards have fallen a wee bit. You cannot understand the character motivations sometimes.
Frank's fourth-wall breaking happens a lot more often, and feels sometimes unnecessary.
The Tom Yates-Claire subplot ceases to peak interests. The only dark patch in an otherwise excellent Claire story.
All that being said, House of Cards is as engaging and entertaining than it was in the first season. It did seem to lose momentum early on in season 2 and 3, but climbed up from the 4th season.
The production values are top notch, the performances are perfect. And of course, it is highly addictive.
Apart from the turn of events in the last episodes, what will be interesting to see in the next season is how the writers would bring nuances of the current political situation of America into the story.