The day when producer JD Majethia announced the comeback of Sarabhai VS Sarabhai, a rage ensued. In no time, all my twitter and facebook timelines were filled with posts/ news rejoicing of the fact that one of India's most loved and missed shows is finally making a comeback. The instant I read about it first, it brought a wide smile to my face, the show's many moments replaying in my mind. Needless to say, many rewatches of the original followed!
To an outsider, not haven seen the show, this excitement must be baffling. A Hindi show launched 12 years back and which in its onset looks like any other regular sitcom is being drooled over so much! Why? There are quite a few reasons.
---
F.R.I.E.N.D.S FOR THE INDIAN AUDIENCE
I won't bore you much with the history of Indian television over the years. But what you should be knowing is – SvS came at a time when the 2 massively popular shows – Kahaani Ghar Ghar Ki and Kyuki Saas Bhi Kabhi Bahu Thi ruled the television. When majority of the audience wanted to watch was lowbrow family drama with scheming kitchen politics. Then on 1 Nov, 2004 came a show that can be considered well ahead of its time, even today.
To people like me who were never exposed to international shows for a large part of growing up, SvS was the show what F.R.I.E.N.D.S is to many. Both these sitcoms are a masterpiece with first-rate comedy and feature characters who become part of our lives. While the American show enjoys an even crazy following and has over 236 episodes to re-watch, the 70 episodes and a due second season leaves the SvS fans asking for more.
And while it may not bring much emotional heft with its family theme the way F.R.I.E.N.D.S does with its theme of friendship, both shows are comparable in terms of how even the smallest of characters are written brilliantly. If the American show had Gunther : the always-silent and secret admirer of Rachel, SvS had the deaf Madhusudan Fufa. In both shows, all the principal characters are given equal time to shine, and each has their own fan following.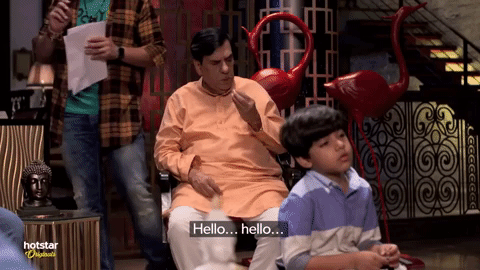 ---
IT DARED TO BE DIFFERENT
The sitcom format, though had its fair share of popularity in India, was more often considered a product of the west. Unlike in the TV scenario today where the shows are either pseudo-modern with regressive storytelling or foreign adaptations with little originality, SvS was both modern and original. It gave independent women characters like Maya Sarabhai long before it was a compulsion to make one. It had racist, sexist and disabled jokes, but very few and not to the point of mockery.
While on the other hand, characters from other shows were dying, re-appearing, getting plastic surgery and continued to look young even when the story would take years of leap. Naturally, some sections of the audience needed a break from the nonsense, and SvS provided just that.
---
THE DESINESS OF THE SHOW WAS INFECTIOUS
The show was proud to showcase the Gujrati community and made countless Bollywood references, which made the connect even stronger. And what worked the most was its authenticity in depicting the quirks of being a middle-class or an upper middle-class, who formed a majority of its target audience. Of course, they overdid the quirks many a times. But what is comedy without it?
The jokes, specially the ones by Indravadan felt at home. It had the kind of jokes that you would see in a family gathering, tossed around by Chachas and Mamas (provided their sense of humor even came close to that of Indravadan).
---
 ENDED ON THE RIGHT NOTE
In India when a show becomes a hit, they don't end it. They just don't end.
Thanks to a season system that is practically non-existent, makers drag the show even beyond its breaking point. So much so that all your love for the show just dies out after a time. Which show am I referring to? You must have guessed it by now.
But thank lords the makers of SvS knew when they had to end. Personally, I felt the last few episodes were actually lacking punch and it was good that they ended there. But they went with the promise that they would return back. Soon.
---
DID IT REALLY NEEDED A SECOND SEASON?
After the promise, fans waited for long. Too long to lose hope after a point. But Majethia somehow has managed to make that true now, around 12 years later. Given the kind of response the news got, people clearly haven't forgotten the classic and it makes sense to continue the story. It is reported to take a time leap (it HAD to, given how old Ratna Pathak Shah and Satish Shah look now) and will be a limited series airing exclusively for Hotstar.
From the point of view of Hotstar, this is a striking move as this will make them gain an even higher space in the digital platform. And it may finally give them their first successful original series. Like Netflix, they seem to have started taking viewer demands a lot seriously. But the main question is –
---
WILL IT WORK?
We all want it to, right? It's no cakewalk to recreate the goofiness and regenerate the laughs after the long time gap. It may happen that the 12 years gap would take a toll on the writing and production. The new additions may not work (still figuring out why do they want to market it as "clean comedy" when its being released online) to their favour. But as an SvS fan I don't care.
Because all we want is to relive those characters again. We want the iconic title track to play once more. We want Roshesh's new poetries, Monisha's same middle-class habits, Maya's sophisticated poise, Dushyant's engineer mind, the hai hai of Madhusudan Fufa, Sahil's confused look and our very own Naaradmuni Indravadan again creating chaos in the family.
---
We want all that to return. And that is why every episode of Sarabhai Vs Sarabhai : Take 2 will be awaited with bated breath.
Just bring it on!